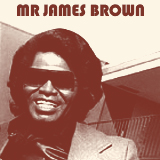 aka as "Mr Dynamite"
or... "The Minister of Heavy Funk", "he Godfather of Soul", "the Hardest Working Man in show business", "the number 1 Soul Brother"...
He's phonographic production counts around seventy-five albums and a hundred or so compilations of his smash hits have come out since the end of the 50's. Most of his recordings were reedited throughout the years for our greatest pleasure...
Between 1956 and 1967 he records 45s with his company "King Records" which will lead him to the front of the Soul and R 'n' B scene. He enters "Top Charts".
It is in 1967 that he creates "Cold Sweet" and creates the basis of "Funk music" with its rhythmic forward, its syncopated guitars riffs and the brass sections...
For 10 years, he will define that style and make himself known in the entire world. Artists like Prince or Michael Jackson will find in him part of their inspiration... Later during the disco boom and at the very start of hip hop he will leave his print by his will to bring people together... If there was a list of those who were influenced by him, there would not be enough room on our site!
Here are 12 titles which marked his career throughout time and propelled him as an international symbol of this music...
Loved or hated, he will not leave anyone indifferent! At one and the same time creator, businessman, moral conscience and political leader of the African-American community, he will have in fifty years of career installed the foundations of present music...